Home Energy Hero Services
If you're looking for a HERO to save you from cold rooms, high utility bills, or general discomfort in your home, you've come to the right place. We help homeowners save energy and money, but that's not all. We create consistent comfort throughout your home, so you'll fall in love with it all over again.
Home Energy Audit
This service provides an in-depth analysis and report of your home's current state. You'll be able to see where the biggest leaks are happening and what you can do to get the most bang for your buck. Find out more about our process and what's included.
Home Performance Contracting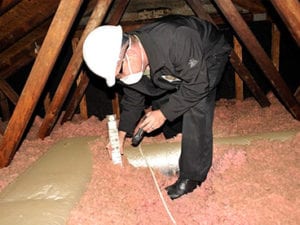 When it comes to ensuring the efficiency of your home, your home energy audit usually recommendations one of the following fixes: air sealing, insulation, and/or duct analysis and repair.
The report will provide you with an estimated payback period for these home improvements. A payback period is an estimate of how long it'll take to recoup the cost of these services.
If you already have an inkling of what you need, read more on our home performance contracting page.
For Builders
An airtight home adds value in more ways than one, which is why we work with builders to ensure their new construction is as tight as our leggings. Major changes are coming our way in the next few months, so please give us a call if you'd like to discuss partnership.