Services Home Performance Contracting
Your home should always be a place where you want to be. Say "goodbye" to cold rooms, high energy bills, and wasted money. We're here to make your home comfortable.
We fix the poor performance of existing homes. How do we do it? We start by examining your entire home – the ductwork, attic, recessed lighting, basement/crawlspace, windows and doors. There's nowhere for energy villains to hide.
Then we'll compose a comprehensive plan that maximizes energy efficiency and building durability, ensures optimal indoor air quality, and ensures that all components of your home are functioning as intended.
Most recommendations will fall into one of three categories: air sealing, insulation, or duct repair.
Air Sealing
You've probably heard that you should caulk your windows in order to prevent drafts and the loss of hot or cold air. That's an example of an air-sealing. Reducing air leakage as much as possible cuts down on heating and cooling costs, improves the durability of your home, creates a healthier indoor environment, and ultimately improves comfort.
The first step to air sealing is testing your home for air tightness. By identifying the sources of the leaks, we can then take the necessary steps to seal them. Below is a graphic from energy.gov that shows the common sources of air leaks. We look at them all!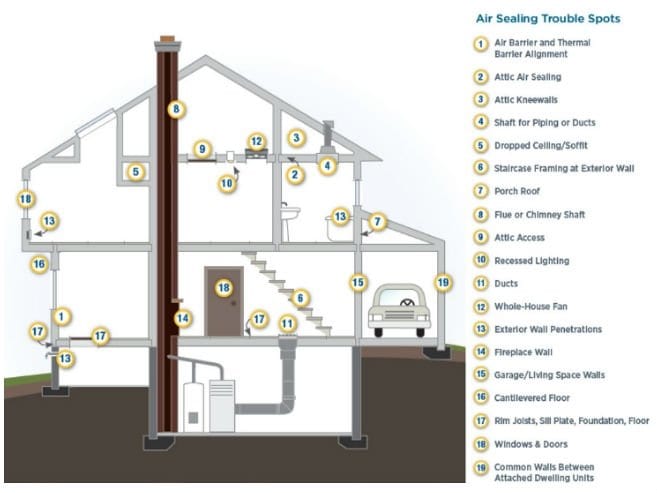 Insulation
Many people know that the biggest source of their energy troubles is lack of proper insulation. We offer insulation installation (try to say that five times fast) services in central Maryland and some northern parts of Virginia.
As a full-service home performance contractor who has experience with a variety of insulation materials and installations, we're happy to work with our customers to determine the best insulation solutions for your home. We emphasize quality installation to maximize the thermal effectiveness and we also take care to complement insulation upgrades with air sealing to minimize airflow and achieve the best energy-saving results for your home.
Insulation products and services include:
Attic insulation
Wall insulation
New construction insulation
Energy retrofits
Cellulose insulation
Spray foam insulation
Duct Analysis and Repair
Leaky ducts can contribute to a significant decrease in energy efficiency of a home or commercial building, as well as reduced comfort throughout the building. Our expert energy auditors are trained to identify leaks in duct systems with our diagnostic tools, and to repair ducts with the most trusted duct sealing techniques.
Benefits of our duct analysis and repair services include:
Reduced energy bills
Improved energy efficiency
Improved comfort
Healthier indoor air quality
Reduced environmental impact
You let us know what to execute. The end result will be a home that is more comfortable and energy efficient, which is better for you, future homeowners, and the environment.
Ready to get started? Give us a call to schedule your home performance audit today!